Your success is our mission!
The path to success is individual
Today, there is a mul­ti­tude of tech­ni­cal solu­tions, tools and meth­ods. They only ever add val­ue for the com­pa­ny if they are placed in the right con­text. Just because some­thing has worked for one com­pa­ny, it does­n't auto­mat­i­cal­ly have to be good for oth­ers! We have made it our busi­ness to make peo­ple, teams and com­pa­nies fit to iden­ti­fy, become aware of and influ­ence the small and big dif­fer­ences that deter­mine suc­cess or fail­ure. Today, it is nei­ther advis­able nor nec­es­sary to leave these aspects to chance.
In order to offer our clients the best pos­si­ble ben­e­fits, we are avail­able both in on-site pres­ence or online. Inter­na­tion­al­i­ty is impor­tant to us: there­fore we offer our ser­vices in Ger­man as well as in English.
With get­Next IT, we want to cre­ate the pre­req­ui­sites for com­pa­nies to take advan­tage of the oppor­tu­ni­ties offered by rapid­ly evolv­ing technology.
We want to accom­pa­ny our cus­tomers on their way to busi­ness agili­ty and sup­port them in becom­ing resilient. This enables our cus­tomers to oper­ate secure­ly even in rapid­ly chang­ing environments.
Peo­ple and tech­nolo­gies are mov­ing ever clos­er togeth­er. But for us, peo­ple always remain at the cen­ter; tech­nolo­gies should sup­port peo­ple and cre­ate free­dom so that peo­ple can con­cen­trate on impor­tant tasks: Find­ing solu­tions, dri­ving change, improve­ment and innovation!
To achieve this, we con­sid­er it nec­es­sary not only to use the right tools and tech­nolo­gies, but also to increase the accep­tance of these solu­tions and to cre­ate a safe and ben­e­fi­cial han­dling of the tools and technologies!
At get­Next IT we want to cel­e­brate suc­cess togeth­er with our cus­tomers. We want to enter into part­ner­ship rela­tion­ships and always want to act open­ly, trans­par­ent­ly and at eye lev­el with a lot of appre­ci­a­tion with our cus­tomers. For us, trust is a fun­da­men­tal val­ue that shapes our work!
In short: what we com­mu­ni­cate in terms of con­tent, we live every day!
There is no such thing as the one solu­tion that suc­cess­ful­ly address­es all prob­lems. That's why we focus on our cus­tomers indi­vid­u­al­ly in order to sup­port them suc­cess­ful­ly in their mis­sion. For this rea­son, we are the­mat­i­cal­ly broad­ly posi­tioned to be able to take dif­fer­ent per­spec­tives and pro­pose suit­able solu­tions. We are firm­ly anchored in Sys­tems Think­ing and are con­vinced that small changes in the sys­tem will have a big impact in com­plete­ly dif­fer­ent places.
Enthusiastic Agile & Devops Enabler
Sabine is the expert for team­work, com­mu­ni­ca­tion and lead­er­ship. She has been work­ing on these top­ics with teams and orga­ni­za­tions since 1991 in order to make changes more sus­tain­able and to bet­ter uti­lize poten­tials by increas­ing moti­va­tion, self-respon­si­bil­i­ty and more fun at work.
For her, think­ing out­side the box and con­stant­ly putting one's own behav­ior and inter­nal process­es to the test are the pre­req­ui­sites for con­tin­u­ous improvement!
Devel­op­ing a pro­duc­tive cor­po­rate cul­ture, using help­ful feed­back as an improve­ment tool and visu­al­iz­ing work are impor­tant steps for the busi­ness suc­cess of their customers!
Agile work­ing, New Work, DevOps and Lean Think­ing are ways to achieve these goals. Par­tic­u­lar­ly close to her heart are the top­ics around deal­ing pos­i­tive­ly with mis­takes, appre­cia­tive, open com­mu­ni­ca­tion, cre­at­ing busi­ness agili­ty, inno­va­tion cul­ture, mod­ern lead­er­ship and the Lean Start­up method.
As a lec­tur­er at Kiel UAS, she already moti­vates stu­dents to deal with the top­ic of agile project management.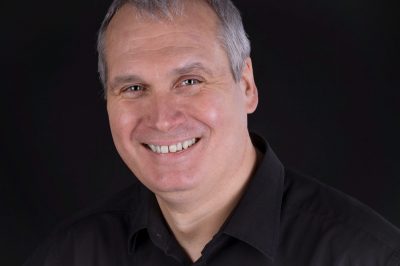 Agile Business Enabler & Software Developer
Maik is a spe­cial­ist for the tech­ni­cal side of automa­tion, dig­i­tal­iza­tion and soft­ware. In 2001, he and his part­ners found­ed wobe-sys­tems GmbH, which devel­ops soft­ware solu­tions for the high­est require­ments in the cor­po­rate context.
As a project man­ag­er and prod­uct own­er in Ger­many and abroad, Maik has put count­less process­es in com­pa­nies to the test and opti­mized them. He is par­tic­u­lar­ly pas­sion­ate about require­ments man­age­ment and risk man­age­ment. Agile work­ing meth­ods, DevOps, Lean and Sys­tems Think­ing are essen­tial for him on the road to suc­cess. Maik sees inno­va­tion as part of the dai­ly work in com­pa­nies, so that SMEs in par­tic­u­lar remain com­pet­i­tive in the future.
Let's just talk over a virtual coffee sometime!